Subscribe To Learn More About Hawaii
Share This Blog With Your Friends
If you've been thinking about moving to Hawaii in 2021, you probably have certain ideas in your mind about what living in Hawaii is like. Hawaii is so often featured in movies and TV shows that individuals have created an idyllic impression of what the islands are like to live on. I will debunk some of the most common misconceptions about living in Hawaii and discuss what you need to consider before making the big move this year.
1. It's Not Like The Movies
In any movie you've watched featuring Hawaii, you probably see the family get off the plane to be greeted with Hawaiian leis. While Hawaii is certainly a friendly and welcoming place, you'll most likely be on your own when you arrive in Hawaii. Make sure you have all of your luggage and that you have arranged transportation to your accommodation or new home. 
2. You Don't Need a Passport to Come to Hawaii
One of the biggest misconceptions about traveling to Hawaii is the need for a passport to travel here. Hawaii has been a state since 1959, and so you don't need a passport to travel between the mainland and Hawaii. You might be surprised to learn that 38% of Americans have never owned a passport, but fortunately, this won't stop you from moving to Hawaii in 2021.
However, when traveling to Hawaii, make sure you are aware of the current restrictions regarding the COVID-19 pandemic. View more information here at hawaiicovid19.com.
Wherever you go in Hawaii, you are going to hear the word aloha. It is often confused as only meaning "hello". As well as being used to say "hello" it also means "goodbye." However, aloha also refers to a way of life. We treat each other with aloha. We spread aloha. We LIVE ALOHA. You will experience what it means to live aloha when living in Hawaii, which accepts everyone as they are and treats the islands with care.
Our team talks to so many people thinking about moving to Hawaii just like you and we absolutely love it! Click the button below or go ahead and shoot us a text by tapping this number: (808) 388-8710
4. Does it snow in Hawaii?
When you think of Hawaii, you probably think of soaking up the sun all day on the beach. You might be surprised to learn that it does snow here in Hawaii, specifically on the tops of Mauna Kea and Mauna Loa on the Big Island and Haleakala on Maui. During the winter months, the tops of these maunas (mountains) see a thick layering of snow. Oddly enough, in the same day you can be on top of a snowy mountain and then find yourself at the beach. How amazing is that?!
Living the Dream In Hawaii
If you think that everyone in Hawaii is enjoying one big beach party lifestyle and never goes to work, that couldn't be further from the truth. People in Hawaii are hustling like anywhere else in the country to provide for their families. The average individual income in 2019 was $35,515 a year, which considering the higher cost of living, is barely enough to live on. Renting a condo in Hawaii will set you back $2,000 a month, barely leaving you with anything for additional essential purchases.
Try to line yourself up with a job before arriving in Hawaii, or be prepared to cover your expenses for the next few months without one. If you are living in Hawaii this year, make sure you support the local businesses that have been struggling following the challenging past year. Having said that, locals can't wait for the weekend and Pa'u Hana, which means leaving work for the week to enjoy everything their home has to offer.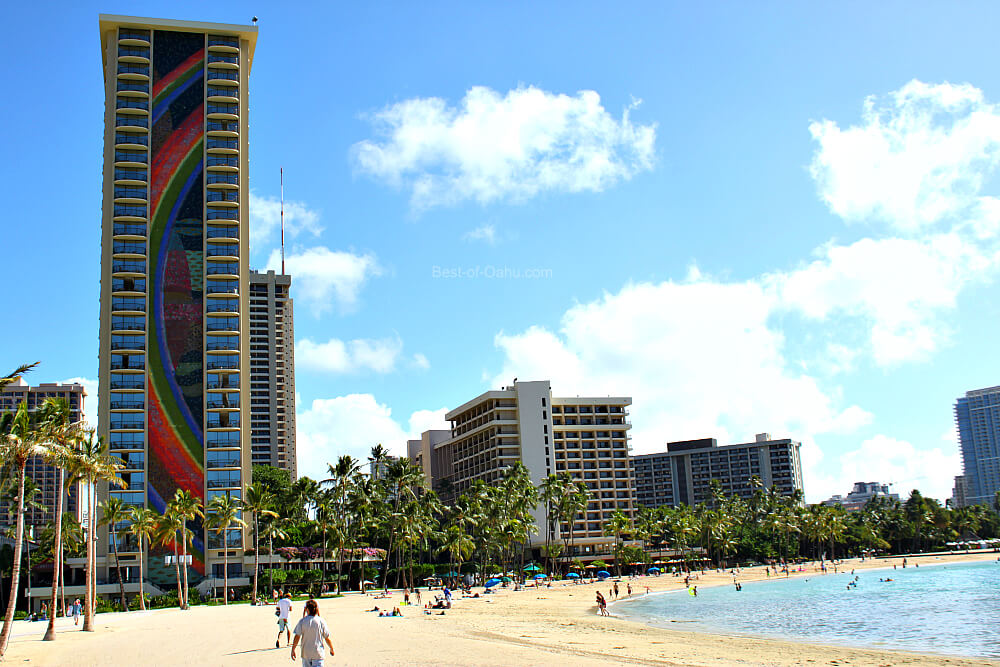 Everyone Who Lives in Hawaii is Not Hawaiian
Individuals who move to Hawaii often believe that everyone living in Hawaii was born and raised there. There are many individuals like myself who grew up here but aren't necessarily Hawaiian. Census.gov shares that 37.6% of Hawaii's population is of Asian descent, with just 10.1% of the population being Native Hawaiian or from another one of the Pacific Islands. However, make sure you are respectful of the island and its culture. Keep in mind that if you take care of the island, it will take care of you, and use that thought to make good decisions when living in Hawaii.
All the Islands Have Something Unique to Offer
Another myth I'd like to dispel is that all of the Hawaiian islands are the same. This couldn't be more wrong, and they all offer something unique for visitors and residents. Consider the differences between the islands when deciding where to relocate. Oahu is typically the island that most people know, but in my opinion, Kauai and Maui are absolutely stunning and aren't as developed as elsewhere in Hawaii. If you are particularly concerned about your job prospects, you'll probably look at relocating to Oahu, but you'll definitely want to explore the other islands during your vacation time.
It Doesn't Get Cold in Hawaii
Whether you think Hawaii gets cold is very subjective to where you are coming from and how long you've been living in Hawaii. Of course, from the north of the mainland, you'll probably find it warm all year round to begin with. Once you adapt, you'll notice it's much cooler in the winter, but you'll be happy to save on AC and electricity during this time.
The Size of the Homes in Hawaii
If you are moving to Hawaii in 2021 from somewhere in the south where you are used to a big home and yard, you aren't going to find that in Hawaii. You'll find most homes are older and more condensed, so expect to downsize and sell some of your belongings before your relocation. When I first relocated, we lived in a 744 sq ft townhome, so be prepared for this if you are moving with your whole family.
You won't just walk off the plane when you arrive in Hawaii and become a surfer. Get out there in the waves and join in this important part of the culture if you are planning on living in Hawaii.
Hawaii is an incredible place to live, but it's worth keeping these points in mind before moving to Hawaii in 2021. Living in Hawaii can offer you a fantastic quality of life, so don't hesitate to contact me today or check out my YouTube channel for more information on relocating to the islands this year.
First, let us all thank our teachers for everything they do in every school! "Good" schools is an opinion and due diligence is required. Click the button if you would like to learn more about schools in Hawaii.
CLICK ANY OF THE BUTTONS BELOW TO SHARE THIS ARTICLE WITH ANYONE YOU KNOW WHO MAY BE PCSING TO HAWAII AND NEED THIS INFORMATION. PRINT THIS ARTICLE OUT IF YOU NEED IT FOR LATER.
MAHALO!